American Musicological Society
&
Society for Music Theory
Use promo code UMUSIC23 for 30% off!
Visualizing Music
To feel the emotional force of music, we experience it aurally. But how can we convey musical understanding visually?
Visualizing Music explores the art of communicating about music through images. Drawing on principles from the fields of vision science and information visualization, Eric Isaacson describes how graphical images can help us understand music. By explaining the history of music visualizations through the lens of human perception and cognition, Isaacson offers a guide to understanding what makes musical images effective or ineffective and provides readers with extensive principles and strategies to create excellent images of their own. Illustrated with over 300 diagrams from both historical and modern sources, including examples and theories from Western art music, world music, and jazz, folk, and popular music, Visualizing Music explores the decisions made around image creation.
Together with an extensive online supplement and dozens of redrawings that show the impact of effective techniques, Visualizing Music is a captivating guide to thinking differently about design that will help music scholars better understand the power of musical images, thereby shifting the ephemeral to material.
The Pianist's Bookshelf
A Practical Guide to Books, Videos, and Other Resources
Originally published in 1997, The Pianist's Bookshelf, was, according to the Library Journal, "a unique and valuable tool." Now rewritten for a modern audience, this second edition expands into the 21st century.
A completely revised update, The Pianist's Bookshelf, Second Edition, comes to the rescue of pianists overwhelmed by the abundance of books, videos, and other works about the piano. In this clear, easy-to-use reference book, Maurice Hinson and Wesley Roberts survey hundreds of sources and provide concise, practical annotations for each item, thus saving the reader hours of precious research time. In addition to the main listings of entries, such as "Chamber Music" and "Piano Duet," the book has indexes of authors, composers, and performers.
A handy reference from the masters of piano bibliography, The Pianist's Bookshelf, Second Edition, will be an invaluable resource to students, teachers, and musicians.
The Living Art of Violin Playing
Progressive Form
Blending creative insights with wisdom of the masters, professional violinist Maureen Taranto-Pyatt shares practical guidance in her new methodology, Progressive Form.
With The Living Art of Violin Playing, violinists will learn to appreciate the physics and geometry of movement to facilitate a nuanced flow of compression and release in the playing. A gradual building of technique begins from sitting or standing, moves through the torso into the left arm first, sets up an effective bow arm, and then combines the two in a holistic context. Imagery invigorates each of the technical moments, instilling new patterns that are now memorable and integrating each component into larger forms.
Featuring nearly 400 photos and music examples to illustrate technical elements through balance and gesture, Progressive Form can be used as a step-by-step retooling of technique or as a reference for targeted issues. A comprehensive exploration of method in service of musical expression, The Living Art of Violin Playing offers the aspiring and serious violinist a path toward a more liberated musical world.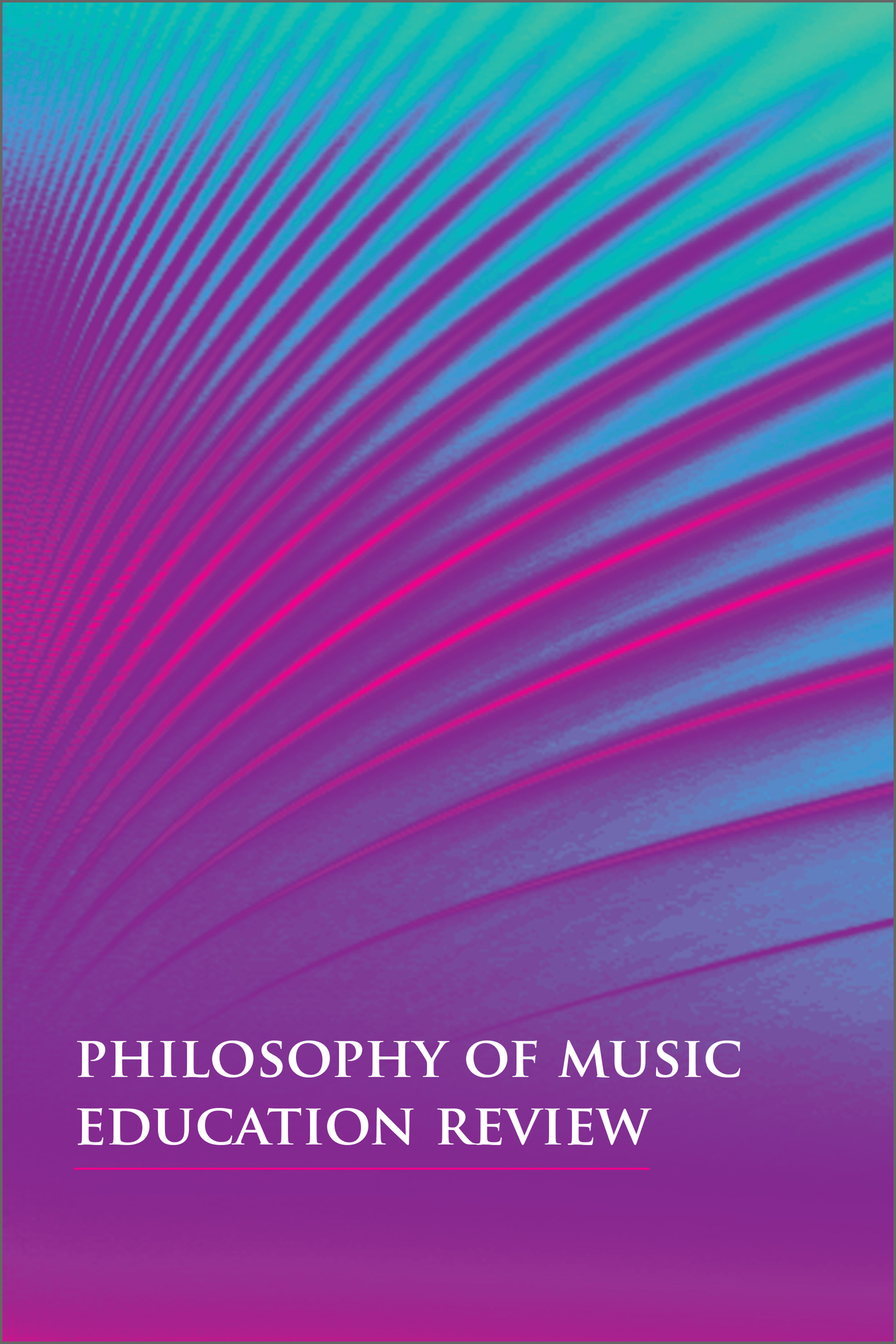 Philosophy of Music Education Review features philosophical research in music education for an international community of scholars, artists, and teachers. It includes articles that address philosophical or theoretical issues relevant to education, including reflections on current practice, research issues or questions, reform initiatives, philosophical writings, theories, the nature and scope of education and its goals and purposes, and cross-disciplinary dialogue relevant to the interests of music educators.
Historical Performance is a peer-reviewed journal that focuses on the practical, performance side of the musicological research. Extending from the middle ages to the early twentieth century, we examine the complexities inherent between the historical evidence of the sources—theory—and what we can adduce about the more ephemeral realizations of performance—practice—then and now.
Publishing since 1977, Indiana Theory Review provides a venue for creative and imaginative articles on music theory, a forum for the thoughtful exchange of ideas and directions in the field through letters and editorial comments, and an opportunity for review of books and periodicals dealing with a variety of music subjects. Formerly semiannual prior to volume 37, each annual peer-reviewed issue showcases the basic philosophy of sound scholarship and high quality performance as the hallmarks of superior music education. Indiana Theory Review is sponsored by Indiana University's Jacobs School of Music, its Department of Music Theory, and the Graduate Theory Association.
Jazz Education in Research and Practice explores diverse topics of jazz scholarship and its applications to pedagogy. The journal provides a forum for interaction and exchange between researchers and practitioners grounded in scholarship. It was developed by and is an extension of the Jazz Education Network Research Interest Group (JENRing) founded in 2014 under the umbrella of the Jazz Education Network (JEN). The journal aims to be inclusive of a wide range of perspectives, from musicology to cultural studies, from psychology to business, that can be applied in the field. In this respect, the editors particularly welcome articles that provide models, resources, and effective techniques for the teaching and learning of the art form.
Indiana University Press will use the information you provide on this form to contact you regarding book updates and promotions. You can change your mind at any time by clicking the unsubscribe link in the footer of any email you receive from us, or by contacting us at [email protected]. We will not share your information with anyone and will treat your information with respect. By clicking SUBSCRIBE below, you understand our Privacy Policy and agree that we may process your information in accordance with these terms.