Margaret Bourke-White and the Dawn of Apartheid
Alex Lichtenstein and Rick Halpern
"A beautiful book, touching and powerful." —Actuphoto
In 1949, Life sent Margaret Bourke-White to South Africa to take photographs in a country that was becoming racially polarized by white minority rule. Life published two photo-essays highlighting Bourke-White's photographs, but much of her South African work remained unpublished until now. Here, these stunning photographs collected by Alex Lichtenstein and Rick Halpern offer an unparalleled visual record of white domination in South Africa during the early days of apartheid.
---
Life in the Time of Oil
A Pipeline and Poverty in Chad
Lori Leonard
"Lori Leonard's signature achievement in this book is that she offers an ethnographic analysis of a development project that is simultaneously an examination of oil companies and the practices of global capitalism and an account of the experience and consequences for ordinary people who are touted to be beneficiaries but in fact often end up victims." —Daniel Jordan Smith, author of A Culture of Corruption: Everyday Deception and Popular Discontent in Nigeria
Drawing on more than a decade of work in Chad, Leonard examines the Chad-Cameroon Petroleum Development and Pipeline Project.
---
From War to Peace in 1945 Germany
A GI's Experience
Malcolm L. Fleming
Foreword by James H. Madison
Afterword by Bradley D. Cook 
"Malcolm Fleming's simple but devastating visual narrative of war, occupation, and homecoming in 1945 does through pictures what Ernie Pyle managed in words: tell the story of one piece of World War II as it was seen from under the brim of a GI's helmet." —Eric Sandweiss, Indiana University
In the pouch intended to carry his first-aid kit on his belt, Army Photographer "Mac" Fleming instead carried a small personal camera, which he used to take pictures of the people and places that interested him. From these photos, Fleming has assembled this absorbing private chronicle of war and peace in 1945.
---
Ponderings II–VI
Black Notebooks 1931–1938
Martin Heidegger
Translated by Richard Rojcewicz
Praise for the German editions:
They will cast a dark shadow over Heidegger's legacy.'" —New York Review of Books
Ponderings II–VI begins the much-anticipated English translation of the "Black Notebooks." These challenging and fascinating journal entries shed light on Heidegger's philosophical development regarding his central question of what it means to be, but also on his relation to National Socialism and the revolutionary atmosphere of the 1930s in Germany.
---
Emptiness and Omnipresence
An Essential Introduction to Tiantai Buddhism
Brook A. Ziporyn
"Those who take the journey with Ziporyn will find a rich and rewarding work, not simply due to the mind-boggling Tiantai doctrine, but also because of Ziporyn's respect for the tradition and his extraordinary finesse in presenting its demanding ideas." —Publishers Weekly
Ziporyn reveals the profound insights of Tiantai Buddhism while stimulating philosophical reflection on its unexpected effects.
---
A Jewish Guide in the Holy Land
How Christian Pilgrims Made Me Israeli
Jackie Feldman
"Here, the author chronicles his experiences shepherding tourists, mostly Protestants, on pilgrimages to the Holy Land. . . . A unique lens through which to view the conflicted Promised Land." —Kirkus Reviews
A New York-born Israeli citizen, scholar and licensed guide draws on his experiences leading tours, interpreting Biblical landscapes, and fielding questions about religion and current politics for Evangelical Christian tourists who visit the Holy Land.
---
Now in paperback
The Case for Auschwitz
Evidence from the Irving Trial
Robert Jan van Pelt
"This is an important addition to Holocaust literature and 20th-century history." —Publishers Weekly (starred review)
In 2000, David Irving brought a high-profile libel case against Penguin Books and Deborah Lipstadt to the British High Court, charging that the 1993 book, Denying the Holocaust, falsely labeled him a Holocaust denier. In connection with their defense, Robert Jan van Pelt was asked to present evidence that Auschwitz had been an extermination camp where up to one million Jews were killed, mainly in gas chambers. This is the story of van Pelt's exhaustive forensic report and its successful defense in cross-examination in court.
---
A Guide to Natural Areas of Southern Indiana
119 Unique Places to Explore
Text and Photography by Steven Higgs
Foreword by James Alexander Thom
"You would need to do hours and hours of internet research to compile just a small portion of what this one book provides. This is an excellent guidebook and offers a big-picture view of southern Indiana's diverse environments." —Cheryl Ann Munson, Indiana University
In this fully illustrated guidebook for nature lovers who want to explore the wild and natural areas of southern Indiana by trail, water, or road, Higgs highlights each site's unique natural characteristics and history with additional facts, anecdotes, and observations.
---
Threads of Empire
Loyalty and Tsarist Authority in Bashkiria, 1552–1917
Charles Steinwedel
"An original and well-researched study of the incorporation of the Bashkir lands and their transformation into a Russian imperial region over the course of three and a half centuries." —Willard Sunderland, author of Taming the Wild Field: Colonization and Empire on the Russian Steppe
This book examines how Russia's imperial officials and intellectual elites made and maintained their authority among the changing intellectual and political currents in Eurasia from the mid-16th century to the revolution of 1917.
---
Living in the Ottoman Realm
Empire and Identity, 13th to 20th Centuries
Edited by Christine Isom-Verhaaren and Kent F. Schull
Living in the Ottoman Realm brings the Ottoman Empire to life in all of its ethnic, religious, linguistic, and geographic diversity. The contributors explore the development and transformation of identity over the long span of the empire's existence. They offer engaging accounts of individuals, groups, and communities by drawing on a rich array of primary sources, some available in English translation for the first time. Designed for use as a course text, each chapter includes study questions and suggestions for further reading.
---
Tropical Cowboys
Westerns, Violence, and Masculinity in Kinshasa
Ch. Didier Gondola
During the 1950s and 60s in the Congo city of Kinshasa, there emerged young urban male gangs known as "Bills" or "Yankees." Modeling themselves on the images of the iconic American cowboy from Hollywood film, the "Bills" sought to negotiate lives lived under oppressive economic, social, and political conditions. They developed their own style, subculture, and slang and as Ch. Didier Gondola shows, engaged in a quest for manhood through bodybuilding, marijuana, violent sexual behavior, and other transgressive acts. Gondola argues that this street culture became a backdrop for Congo-Zaire's emergence as an independent nation and continues to exert powerful influence on the country's urban youth culture today.
---
Swahili Port Cities
The Architecture of Elsewhere
Prita Meier
"Prita Meier has turned the tired question of 'who are the Swahili' on its ear by eschewing essentialist descriptions and showing how Swahili people themselves actively managed their identities locally and beyond, and throughout colonial and national administrations." —Jeffrey Fleisher, Rice University
On the Swahili coast of East Africa, monumental stone houses, tombs, and mosques mark the border zone between the interior of the African continent and the Indian Ocean. Prita Meier explores this coastal environment and shows how an African mercantile society created a place of cosmopolitan longing.
---
The Unseen Things
Women, Secrecy, and HIV in Northern Nigeria
Kathryn A. Rhine
What do HIV-positive women in Nigeria face as they seek meaningful lives with a deeply discrediting disease? Kathryn A. Rhine uncovers the skillful ways women defuse concerns about their wellbeing and the ability to maintain their households. Rhine shows how this ethic of concealment involves masking their diagnosis, unfaithful husbands, and unsupportive families while displaying their beauty, generosity, and vitality. As Rhine observes, collusion with counselors and support group leaders to deflect stigma, secure respectability, and find love features prominently in the lives of ordinary women who hope for a brighter future as the HIV epidemic continues to expand.
---
Learning in Morocco
Language Politics and the Abandoned Educational Dream
Charis Boutieri
"[A] valuable resource for other scholars and a significant book for students trying to understand political and social alienation, as well as the trajectory of development, in the region." —Shana Cohen, Woolf Institute
Learning in Morocco offers a rare look inside public education in the Middle East. Based on long-term research inside and outside classrooms, Charis Boutieri describes how students and teachers work within, or try to circumvent, the system, whose contradictory demands ultimately lead to disengagement and, on occasion, to students taking to the streets in protest.
---
The Politics of Suffering
Syria's Palestinian Refugee Camps
Nell Gabiam
"A deep anthropological engagement with the politics of citizenship and the practices of othering as it relates to the Palestinian refugee camps in Syria. In a time of a major refugee crisis world-wide, this book is a must read for anyone interested in understanding the shape of the needed global humanitarian response to these increasingly normalized conditions." —Nezar AlSayyad, University of California, Berkeley
Gabiam offers compelling insights into the plight of Palestinians before and during the Syrian war, which has led to devastation in the camps and massive displacement of their populations.
---
The Mutual Cultivation of Self and Things
A Contemporary Chinese Philosophy of the Meaning of Being
Yang Guorong
Foreword by Hans-Georg Moeller
Translated by Chad Austin Meyers
Yang Guorong is one of the most prominent Chinese philosophers working today and is best known for using the full range of Chinese philosophical resources in connection with the thought of Kant, Hegel, Marx, and Heidegger. In The Mutual Cultivation of Self and Things, Yang grapples with the philosophical problem of how the complexly interwoven nature of things and being relates to human nature, values, affairs, and facts, and ultimately creates a world of meaning.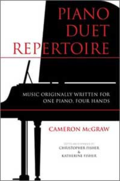 ---
Piano Duet Repertoire
Music Originally Written for One Piano, Four Hands
Second Edition
Cameron McGraw
Edited and expanded by Christopher Fisher and Katherine Fisher
With a Foreword by the Anderson & Roe Piano Duo
This second edition, edited and substantially expanded by Christopher and Katherine Fisher, brings the volume into the 21st century, adding over 500 new or updated composer entries and nearly 1,000 new work entries to the volume, a testament to the renewed interest in piano duet playing. The book also contains updated appendices listing collections and duet works with voice and other instruments. This new edition features a title index and a list of composers by nationality, making it a convenient and indispensable resource.
---
Courageous Leadership
Career Success the Kelley Way
Revised Edition
Terry Campbell, Chris Cook, John Hill, Eric Johnson, Ray Luther, and Kelly Watkins
In this essential and very readable guide to career success the Kelley Way, leaders from the top ranked business school in the country reveal the cornerstone for advancement in businesses—courageous leadership. The principles and attributes of a courageous leader are explained, depicting an effective communicator and motivator, self-learner, critical thinker in the face of complex problems, and a savvy participant in team and organizational environments with a rock solid ethical foundation. Written clearly and concisely with many examples, Courageous Leadership is indispensable reading for anyone considering a career in business.
---
Now back in print
Apocalypse Postponed
Essays by Umberto Eco
Umberto Eco
An erudite and witty collection of Umberto Eco's essays on mass culture from the 1960s through the 1980s, including major pieces which have not been translated into English before. Organized in four main parts, "Mass Culture: Apocalypse Postponed," "Mass Media and the Limits of Communication," "The Rise and Fall of Counter-Cultures," and "In Search of Italian Genius," Eco looks at a variety of topics and cultural productions, including the world of Charlie Brown, distinctions between highbrow and lowbrow, the future of literacy, Chinese comic strips, whether countercultures exist, Fellini's Ginger and Fred, and the Italian genius industry.